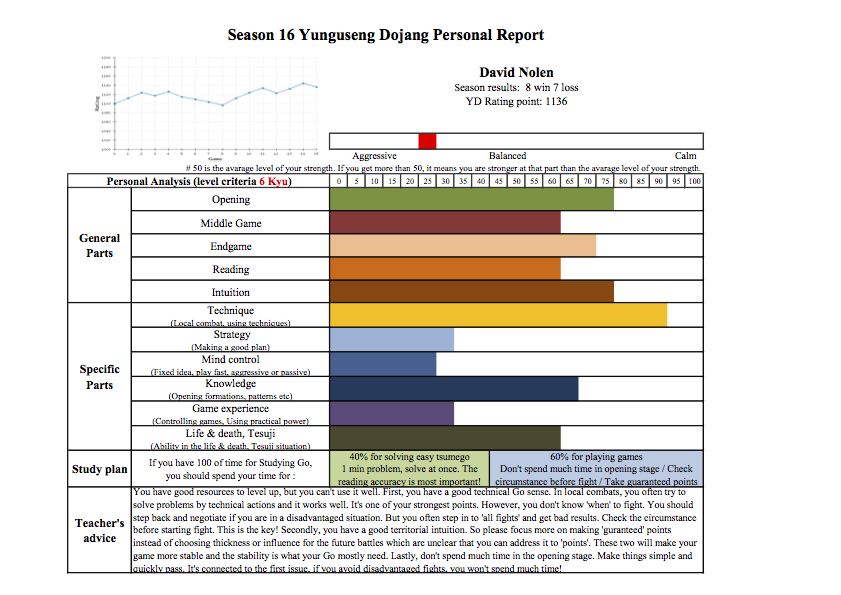 After your first season and then every other season, In-seong creates a personal report card identifying your strengths and weaknesses along with advice on what to focus on when studying. Upon entering AYD, I probably wouldn't have characterized my style as aggressive, but after three months of AYD games and reviews I now see that I consistently choose to start trouble over taking guaranteed territory.
How to break the overly aggressive habit?
Fast Tygem games.
Like IGS I had an idle account (9 kyu) that I had only used for watching pro broadcasts. In these fast games I'm trying to work on my big picture issues. Even though Tygem 9 kyu should be significantly below my level, I lost my first four fast games! Pretty strong evidence that my aggressive style is damaging my ability to improve. When I don't have a lot of time to work out some clever sequence to get out of a bind I just lose.
Then I won the next three by focusing on my own stones and choosing guaranteed points over starting fights. This allowed me to play quickly since I am choosing the simplest way to proceed. And of course when I'm building out my own territory in a calm manner often the opponent will try to aggressively enter and now I can use my technical sense to much greater effect - it's the opponent who has the disadvantage, not me.
Like most important lessons this all sounds so simple now. Time to level up!